Pointing refers to the exposed finish of mortar joints in facing brickwork.
Historic pointing finishes

Flush – mortar is pointed flush with the surface of the facing brick but avoids covering the edges or arises of the brick.
Recessed – mortar is set back slightly from the face of the brick. Generally used on late Victorian and Edwardian buildings where the brick is machine made and has well defined arises.
Double struck – mortar is given a double trowel indent where it meets the brick on both sides.
Penny or Trowel struck – mortar is laid flush with brick and is then incised to a depth of about 1-2 mm. with a trowel edge in the centre of the joint.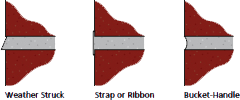 Weather-struck and Ribbon or Strap pointing – where the edge of the mortar is proud of the surface of the brick. These are generally inappropriate as they are visually unattractive and because they are usually executed using hard cement mortars which can accelerate brick decay.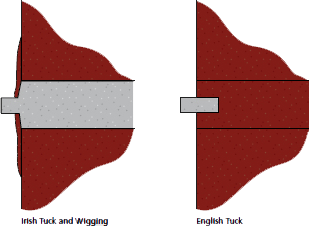 Tuck pointing was a technique commonly used during the 18th and 19th centuries to give the impression of a neat and precise mortar joint. Mortar joints were often relatively wide owing to the unevenness of hand-made brick. Tuck pointing disguised the width of these joints with the use of brickcoloured mortar. During the later part of the 19th century, the use of more uniform machine-made bricks meant that neat joints were easily formed and a flush or slightly recessed joint was most commonly used. Nowadays, tuck pointing is often used when a building is being repointed as a way of disguising repairs and to give a neat finish to weathered brickwork. These are two types of tuck pointing.
Irish tuck pointing is achieved by applying brick-coloured mortar over the brick and the joints while leaving the 'tuck', a thin strip of white lime mortar, exposed in the centre of the joint. The application of brick-coloured mortar in this way is known as wigging and it is this that gives the appearance of a neat joint.
English tuck pointing was achieved by pointing the joint flush with the brick face using a brick-coloured mortar. A groove was then cut along the centre of the joint and a thin strip of white lime mortar was tucked into the centre groove.